SCULPTURE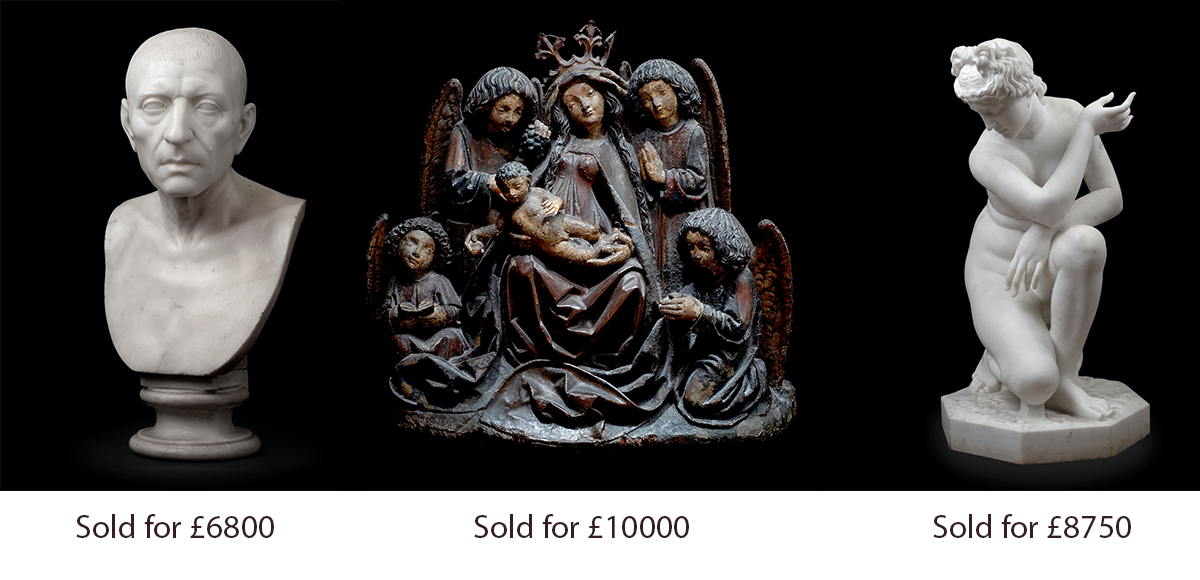 We specialise in the valuation and sale of sculpture; from ancient sculpture, Gothic and Baroque sculpture, 18th and 19th century sculpture right up to the modern works of the 20th century. Valuer Rachael Osborn-Howard was Head of Sculpture and European Works of Art at Bonhams for many years before establishing Curated Auctions and would be delighted to receive your valuation enquiry.
Our 'The Classics' auction features a wide range of sculptures, from Flemish early oak and German limewood carvings, Gothic stone sculpture, Renaissance and Baroque wood, marble and gilt bronze sculpture as well as 18th and 19th century works of art. Bronzes by French sculptors such as Auguste Moreau, Carrier Belleuse, Jean Baptiste Carpeaux, Jules Dalou, Alfred Barye, Emile Louis Picault and James Pradier always perform well at auction and works by the Animalier sculptors such as Antoine Louis Barye, Pierre Jules Mene, Rosa Bonheur,  Alfred Dubucand, and Jules Moigniez have always been sought after by buyers.
Classical style and Grand Tour sculpture are particularly sought after by collectors and interior designers now, for example those produced by the Neapolitan bronze foundries in the late 19th century, which emulate ancient Roman statues such as those of Antinous, Narcissus and the Wrestlers.
If you are looking to sell marble sculpture we can help, we have specialist transporters who are very experienced with moving large and fragile marble statues. If you have statues or marble busts by Italian sculptors such as Pietro Bazzanti, Cesare Lapini, Galleria Romanelli, Guglielmo Pugi; either in marble or alabaster, we would be delighted to hear from you.
Our recent 'The Classics' sale included an important private collection of works by the English New Sculpture artist Sir William Reid Dick; and works by other sculptors of this period such as Alfred Gilbert, Hamo Thornycroft, Sir Frederic Leighton and Alfred Drury have also achieved very strong results at auction in recent years.
If you have a sculpture to sell and would like a valuation, please do get in touch.
Email valuations@curatedauctions.co.uk or send us your photos by WhatsApp, Messenger, or through Instagram.
https://www.curatedauctions.co.uk/valuations/